WELCOME
Currently on tour with THE HOUSE OF USHER  and REPTYLE
GERWIN SPALINK, born in 1971 in Munich / Germany  is a German drummer and musician who has gained worldwide attention performing alongside some of rock - pop and classic music's most notable artists.
At the age of 4 Gerwin would set up pots and pans or anything he could find to resemble a drum kit. He would beat the shit out of them for hours, months and years. He then studied drums and percussion in Germany, Austria and the Netherlands.
GERWIN SPALINK   is also one of the very  few "Moeller  Specialists"  and gives Snaredrum Workshops all over the world.  The Moeller method, or moeller technique, is named for drummer Sanford A. Moeller, as described in his book The Art of Snare Drumming.  It is believed that he described the method after observing drummers who had fought in Civil War in the 19th century. He later taught the system to Jim Chapin in 1938 and 1939. Chapin worked to popularize this method until his death in 2009.
The method combines a variety of techniques with the goal of improving hand speed, power, and control while offering the flexibility to add accented notes at will. The method has been perceived in the drumming community as a secret method. It is considered difficult to learn and no consensus has been reached as to what this technique actually consists of.  (Wikipedia)

---
THE HOUSE OF USHER
Jörg Kleudgen (Vocals), Markus Pick (Guitars),  Georg Berger (Guitars), Ralf Dunkel (Bass) &

Contact:
mail@the-house-of-usher.de
---
Gerwin plays DW Custom Drums , DW Snares, Octagon Cymbals and Vic Firth Drrumsticks
---
Current & Recent Projects:

The Vioelt Steam Experience
The Violet Steam Experience present a show beyond competition. Grotesque and ghostly, glamorous and always with a pinch of irony.
The band hasn't lost its penchant for historic and fantastic elements, but now Violet have slightly turned away from their medieval leanings and focus on Victorian Gothic splendour, bitter-sweet melodies and end-of-time pop gems sparkling with an eerie beauty. On nine extravagant tracks, the six musicians set forth to explore steampunk aesthetics in their very own, astounding way: Lord Byron's "Prometheus" has been given an opulent, dark but catchy treatment with hit potential, while "Apocalyptic City" fascinates with its laid-back, bewildering charm. "I'm Leaving Ground" has a haunting, memorable quality, and "Teaparty 42" bears resemblance to a scene from Alice In Wonderland. And a dark hymn like "Sleepless" finds a perfect, contrasting counterpart in the light and airy "Deep Down Underground".
The Violet Steam Experience are:
Bianca Stücker – vocals, dulcimer
Oliver Pietsch – guitars
Markus Bosser – violin
Georg Berger – synths
KathaHari – performance, e-guitar
Lars Kappeler – bass guitar
Gerwin Spalink – drums
---
Michael Witte & Band - German Singer / Songwriter Project
MICHAEL WITTE - GESANG & GITARRE, MUSIK & TEXTE
GERWIN SPALINK - SCHLAGZEUG
CHRISTIAN KITTEL - BASS
LILIA KIRKOV - VIOLINE & KONTRABASS
& ALEX ROSENHOF - GITARRE
TOMMY SCHNELLER, DIETER KUHLMANN, UWE NOLOPP, JOHANNES KRAYER, DIRK SCHAADT, RICK TAKVORIAN,
ANNE HARTKAMP, STEFAN MICHALKE, JOE SPENCER, HE JOE SCHENKELBERG, SIAMAK PISHNAMAZ
& THE AACHEN STRING THEORY
---
"Lebendig Skalpiert"  Movie by Jochen Taubert, starring Ralf Richter.
Music: Oliver Pietsch, Drums & Perkussion: Gerwin Spalink
---
"Vale, Tempus, Lux", masonic funeral music by Gerwin Spalink
---
RSC Orchestra
Founded in 2007, Rainbow Symphony Cologne is the city's first LGBT symphonic orchestra. Through our music, we speak out against discrimination of all kinds. We are especially committed to promoting equal rights and acceptance of lesbians, gay men, bisexuals and transgender people. Musicians from all over Germany as well as many other countries including Switzerland, Belgium, France and the USA meet converge in Cologne twice each year for a weekend of rehearsal culminating in a concert performance.


---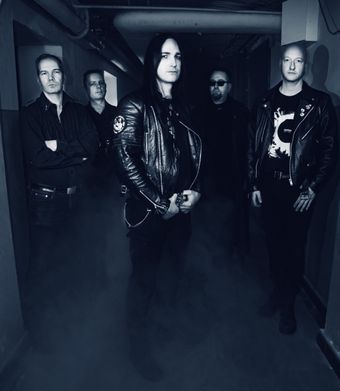 Roundabout 3 years after original frontman Zulu left REPTYLE the East Westphalian Goth Rockers relaunched with new members Kai Roarside on vocals and Gerwin Spalink on Drums to open a new chapter in the 21-year history.
They turned away from the more "rocking" sound of the latest album "Night and the river" (2014) to go back to the musical roots from the beginng where Trad-Goth, Punk and Wave had been the main influences for the band. The latest releases "Apolysis" and "Hibernation" with Henning Hammoor (ALPHAMAY) and Jörg Kleudgen (THE HOUSE OF USHER) on guest-vocals demonstrate this musical change. Inspired by the pioneers of the genre somewhere between THE CHAMELEONS and FIELDS OF THE NEPHILIM the latter already appeared on numerous playlists and also in guitar-based Gothic Clubs. Currently REPTYLE are in the studio working on the new album which is due to be  released in the end of 2020.
The first performance of the currenct line-up still including the founder members Keule and Slash on guitars as well as long time bass player Dead is on July 30th in Bochum (Zeche) supporting the legendary FIELDS OF THE NEPHILIM.
---
---
Booking & Contact:
E-Mail:  gerwin@gmx-topmail.de
facebook.com/gerwin.spalink
Instagram: gerwin_spalink
Twitter: @SpalinkGerwin
---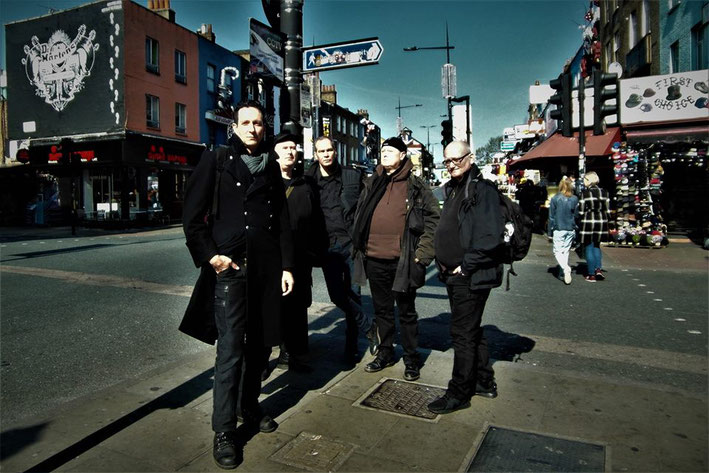 The House Of Usher 2019 @ Camden Lock, London / UK
---